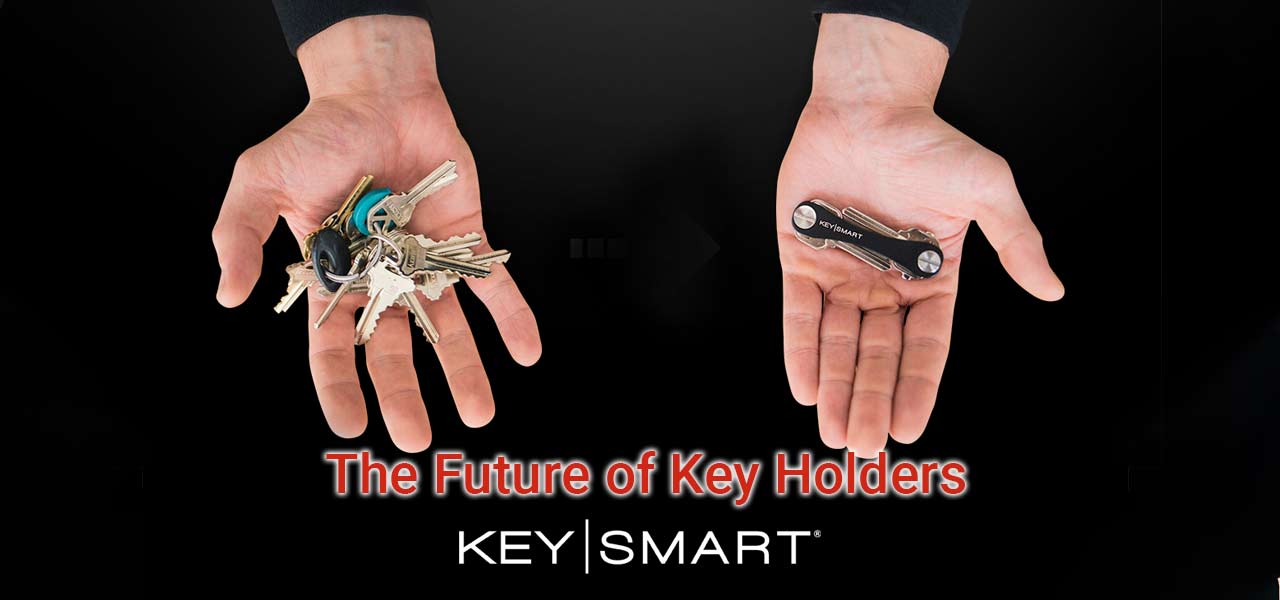 Since the dawn of time, we organize our keys using a ring, place them all together and leave them just like that. However, they become bulky, they poke your thighs and they are annoying. Surprisingly, we stumbled upon this new product called the smart keychain. That being said, we created this KeySmart Review to uncover everything you need to know about this amazing new innovation in realm of key organiser.
Get It Now
Save yourself from losing and misplacing your keys with KeySmart
KeySmart Bluetooth keychain lets you find misplaced and lost keys with the press of a button and a Tile Tracker. Never worry again where you left your keys with the new and innovative keychain.
It's funny how no one actually paid close attention to innovate key organizer until KeySmart accessories came along. Let's take a closer look at this new product innovation and how we can benefit from using it.
Why You Need KeySmart Key Organiser
At most, people can only bring up to 5 keys every single time. Any more than that can be quite annoying. From thigh pokes, phone screen scratches and carrying the extra load of metal is not something anyone would be so eager to do on everyday carry. Not to mention that sometimes we have the tendency to forget where we put our keys.
That being said, how do you feel when that happens? It could ignite fights between couples, sleepless nights of anger and frustration, and guess what we can't do anything about it but to look for it the old fashion way. Seek through the haystack of household things or walking backtracing our footprints.
What is KeySmart Compact Key
Luckily, the KeySmart key chain holder is here. Instead of letting your keys fly around your pocket where it can damage anything it touches, this smart key system can hold up to 10 keys into one compact key holder like a Swiss army knife. This pocket key holder is portable, lightweight, it has a bottle opener, with a loop at the other side to hold big keys.
I appreciate how this new product has made my pocket key tidy which brought new comfort into my legs and my movement. However, these features won't justify its $50 price. What makes it worthy of its price tag is the Tile Tracker.
Basically, Tile Trackers are connected to your phone via Bluetooth which will show you its last location through its app. Moreover, there are two main benefits of using smart key holder: 1. You'll be notified when the Tile Tracker disconnects from your phone. This will prompt that you have lost your keys. 2. You'll be informed about the last place where your smart key lost its signal. This will let you know exactly where you should start looking instead of trying to find it everywhere.
Additionally, if you misplaced your keys you can ring the Tile in your phone app to sound the Smart Key chime sound to help you find your keys.
KeySmart Features
Notably, the KeySmart key organiser is a smart gadget that lets you store and organize your keys. It's designed for everyone who manages to carry loads of keys on a daily basis. This key organiser is a great help for anyone who wants their keys well sorted so it becomes easy for them to use and store.
The KeySmart patented design resembles the letter S that can hold up to 10 keys. On a closer look, it works and looks like an army Swiss knife. Probably one of the best things about this product, design-wise is its spacers. Although they are used to separate the keys, however, when you remove them you can actually fit up to 14 keys.
The Key Smart holder is made from premium grade materials: aircraft aluminium and stainless steel. This is to ensure that it is lightweight and can withstand everyday use. With some additional cash, you can also incorporate other tools like a flash drive, pocket clip, bottle opener, and an LED light. However, if you really want a sturdier option, you can order a titanium upgrade.
It works with almost every key you ever need. However, the principle applies, the fatter keys take more space. Since most people only bring along with them up to 5 different keys on an average day, the Smart Key organiser allows its users to place other useful everyday things. It also comes with a variety of colours: yellow, pink, green, grey, purple, blue, black and red. However, there's an engraving option if you prefer the next level customization.
How To Use this smart key?
KeySmart is very easy to use. You just place the keys inside using the spacers to make sure that each key is separated. However, if you remove the spacers you'll be able to place up to 14 keys which makes it very useful for people who are carrying a lot of keys on a daily basis.
However, you have to expect that you'll be having difficulty finding the right keys on your first few tries. But you'll get over it in no time.
KeySmart's Benefits and Advantages
The KeySmart is a good reminder of a tool that you didn't think you would be using since you're all too familiar with how keys are used and organized. However, its greatest benefit is its ability to streamline the way you carry and manages your keys.
In the event that they were stolen, misplaced, or if you just want to add another level of security this gadget is the compact solution that you need.
KeySmart Users' review
I always bring with me my keys to my apartment, car, and office on an average day. However, during the weekends, I bring as much as five with two other keys to my gym lockers and another one for my motorcycle. I am a weekend rider so to speak. Having the KeySmart changed the way how I managed my keys and I don't have to worry about misplacing them since I would know where to start searching.

Having lots of keys to bring in to work daily has become a nuisance. I work as a security officer and bringing a key fob all the time is something I used to be familiar with. Now that I have KeySmart key organiser, my work has had an upgrade. Now, I can only bring the most important keys with me, and I would always know where I placed them since it has an app and a Tile Tracker installed.

I have cellphone scratches, irritating thigh pokes, and I really hate keys bulging in my pocket. Not to mention that I often misplace them at times while there were times I totally forgot about them. Luckily, my fiance' found them. Now, I don't have to worry about these things. It's a great innovation with something we are so used to.

Price and money-back guarantee
KeySmart is sold for $49.99 however if you want the non-pro version you will only pay for $23. Additionally, the Tile Tracker costs $25 on its own which is half of the pro-version already. On the other hand, you have to charge the Tile Tracker every now and then. Although it's a little bit of inconvenience, it's nothing compared to the benefits. Please go to the product website when you wonder where to buy keysmart.
Conclusion
KeySmart is one of the gadgets that remarkably change the way you manage the important keys. In fact, it's one of the things that not everyone could have imagined getting an upgrade. For a simple key holder innovated with Bluetooth technology and a Tile Tracker to help you locate it when you accidentally misplaced it.
This gadget will help you declutter because of its easy key management. For me, it's reasonably priced for all its features and benefits. Not to mention that it is available for customization and a variety of colours. It might be a good enough gift in my opinion.
KeySmart
All Your Keys – Compact, Comfortable, & Quiet!
KeySmart
KeySmart is the compact solution to your bulky, leg-poking keyring. The patented 'S' design creates a perfectly organized keyring and multifunctional tool.
PROS
Stylish design
Resistant
Customizable
FREE buckle accessory
CONS
Scratches
A bit bulky with a car key