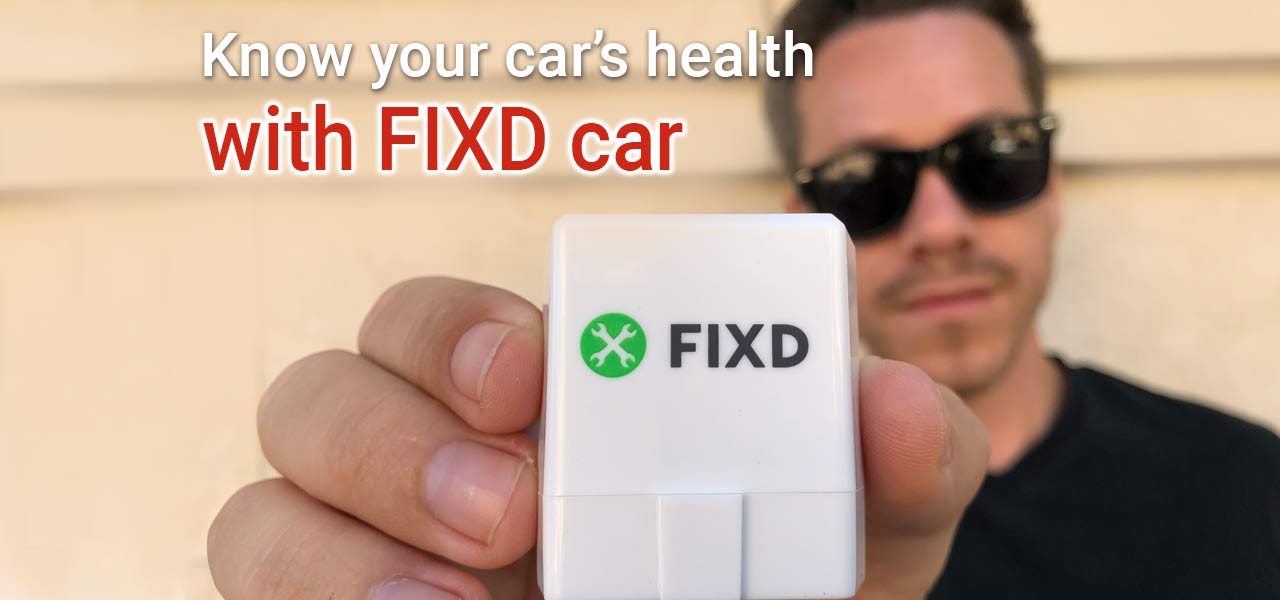 FIXD car app is one Kickstarter story that is making a buzz in the market. While a lot of similar projects fail, this perceived to be a success. This innovative product lets you see the problem, give you a detailed description, the severity of the issue, and the cost of repairs. For this reason, we want to create this FIXD diagnostic tool reviews.
What is the FIXD device?
What does it do?
How effective is it?
We will try our best to give you a detailed FIXD device review. We will answer relevant questions, features, benefits, and disadvantages.
Get It Now
Do you love DIY? Fix your car at the comfort of your own home
FIXD car diagnostic device gives you an accurate evaluation of your car's health in real-time. It also comes with repair cost estimates and parts prices based on your location.
FIXD car diagnostic tool, Active Car Health Monitor
Seeing the check engine light come on your vehicle is depressing. It means an urgent trip to the mechanic. You know what happens next, spend money on car repair. But what if you can check your car's health in real-time? What if FIXD car diagnostic device lets you prevent car troubles before they emerge? Read more of our FIXD review 2021
About FIXD
FIXD – car diagnostic tool allows you to take a quick scan of your car to see what's the problem. The device is easy to use and it will show you results in minutes. That means you can make preventive maintenance and even minor repairs before the problem expands and cost you more money.
Moreover, the device is a combination of hardware and software. The device has FIXD sensor that can be accessed using the FIXD app. Likewise, FIXD is a product of FIXD Automotive, an Atlanta Georgia based automotive company established in 2014.
Notably, FIXD only works with cars manufactured after 1996 that uses gas or hybrids. Additionally, Diesel fueled cars and earlier models don't come with OBD-II. Since it was implemented for all vehicles in the United States after 1996.
Our FIXD Review: Product Features
The package comes with a FIXD sensor that weighs 0.96 ounces and 1.8 x 0,8 x 1.6 inches in diameter. It also comes with a user manual to help you install the device by yourself. It's easy to install on your car's OBD (on-board diagnostic) port.
The sensor gets its power on the car itself therefore it doesn't need recharging. Along with the sensor, the product comes with the FIXD app UK that works for both iOS and Android users. It transmits data via Bluetooth.
How To Use FIXD Scan Tool
According to another review, FIXD sensor needs to be plugged into a car's OBD port. The OBD port is your car's onboard computer that monitors data of your car like emission, mileage, speed, etc. The information is relayed through Bluetooth including the assessment of the severity of the problem as well as what happens when the problem isn't resolved.
The package comes with a FIXD app and a FIXD sensor. Once the device is attached to your car's OBD-port, the OBD or your car's on-board computer will send the information on the device after which the device will send the information into the FIXD app through your smartphone.
Additionally, the app lets you do schedule maintenance at any repair shop of your choice as well as the parts you need to buy for repair.
Benefits and Advantages of Using FIXD
It can identify a wide range of car issues. Probably one of the greatest benefits of using this device is its ability to identify a large number of issues. In fact, the company claims that the device can identify up to 6000+ issues. This includes both minor repairs that you can do yourself at home and major repairs that need professional service at a fixed rate.
Give you cost estimates. If you have gotten into a car accident, you know it takes a long time for the insurance to cover for the repairs. However, the app includes a feature that gives you cost estimates depending on your location via your current zip code. It includes the price of the parts as well as the average labour costs.
It scans faster. As you already know, there are a lot of other diagnostic tools available on the market. However, this device works faster than any of them. Typically, it takes only minutes for it to scan the whole vehicle and give you the results. Therefore it allows you to scan your car any time and any place you want.
Perform multiple vehicle scans on one account. Most car diagnostic tools in the market allow one car for one account. Although the device requires you to use it on one car, the account that you have on your phone can be used to monitor other scanners used in other cars. For example, aside from your car, your wife and children have their own cars, by simply installing scanning devices on each of them the account that you have on your phone will allow you to scan those devices as well.
Affordable. Have you noticed that a lot of car repair shops are offering free vehicle scans? The idea is for customers to visit their shops for free scans, buy the parts there and pay for the repairs. Despite their good intentions, you will have to fall in line and face pushy sales reps. However, with review FIXD, you can scan your car any time you want to.
Convenient for beginners. While diagnostic tools are available at your local car shop, however, one thing you consider is that those tools are often difficult to operate. Aside from difficulty where to place them, most of those tools send codes. Remember, those codes need a database to read. In fact, Admirably, this tool will do the work easier for you.
Support iOS and Android devices. While other car diagnostic tools only work with a single platform, this device works well with both platforms. In case you change the phone in the future, you will not have to worry about this tool not working for your new phone.
Your data is secured. Online shoppers often worry about everything wireless with data transferring capabilities. The good thing about this device is it doesn't let any other connection except the app and the device.
It allows for continuous monitoring. Probably, this is one feature that sets the device apart. The tool is doing continuous monitoring of your car unless you unplug it permanently. This is beneficial since sometimes loose wires might get fixed by road bumps, therefore, tricking another scan tool that the problem is already fixed.
FIXD Users' review
I have experienced fewer road hassles since I used FIXD sensor. It's preventive maintenance capabilities has freed me quite a lot of time going into my local repair shops every time my car breaks down. The best thing for me is that prevention is better than repairs, therefore, I can fix the problem before it causes more harm.

I don't know how to fix a car but I love driving them. It's saddening whenever you need to go to the local repair shop and find that your car needs to change other parts because the problem escalated from a minor issue. Since I had FIXD sensor installed, it made sure my car works in its optimal performance every single day.

I always loved cars. In fact, I pursued that passion and became a car mechanic. In my opinion, it's better to spend money on prevention than to wait for the car to break down before it gets the repair it deserves. I stumbled upon this device when I read a FIXD UK review a couple of months back. Since then, I never encountered major problems that supposedly came from one simple issue. Thanks to the team who made this device.

FIXD Price and money-back guarantee
According to another review FIXD, the device costs $88-$111. Another good thing about purchasing this device is if buy 2 you will get 1 free offer. And to spice things up, it comes with a 30-day money-back guarantee. However, for those who live on the East Coast, the shipping is much faster since the product is shipped from Atlanta, Georgia.

Conclusion
To sum this all up, this device is very helpful for both men and women who want to make sure their cars are up and running all the time. And especially good for people who love DIY. Whether it's minor or major, a car problem when you need it most is devastating. What if you can prevent that from happening?
It's affordable, and it's great for beginners and women who don't know how to fix their car. However, an accurate diagnosis of your car is something that you can be thankful for. It'll prevent you from purchasing unnecessary car parts since it has updated car part prices and repair costs.
Additionally, you can ask anything you want, product-related with their 24/7 live chat support.
FIXD
Diagnose Your Car's Health Right On Your Smartphone!
FIXD
FIXD will give you all the information you need to know about your car's health. You can leave the shady mechanics problems in the dust – no longer able to rip you off!
PROS
Affordable
User-friendly
Accurate readings
CONS
Doesn't actually fix your car!